ATTACHMENTS FOR LANYARDS AND KEYHOLDERS
Accessories for your individualized lanyards

There is a wide range of attachments and accessories for the lanyards, which allows the lanyards to be tailored to the individual needs of your customers. By adding individual attachments, you provide your customer with a promotional item that he likes to carry with him.
Below you will find a short overview of the available attachments. If you do not find the accessories you are looking for, do not hesitate to contact us with your wish – we will gladly produce your personal "dream lanyard".
BADGE HOLDER / ID CARD CASE
Whether at public festivals, in companies or at sporting events, in many places employees or customers must wear a ID card that always has to be present. A lanyard with a cover for ID cards, with which the document can easily be worn around the neck, provides remedy for these situations. This makes it easier to get through at checkpoints and eliminates the need to search for the ID in your pockets. In addition, this way, the identity card cannot get lost easily and is well protected by the cover. Keycards can also be stored in it and can open doors within easy reach. This makes this accessory perfect for employees and as a promotional item for customers.
We can offer you the badge holders in many different shapes, designs and colours. Simply ask us for the desired design.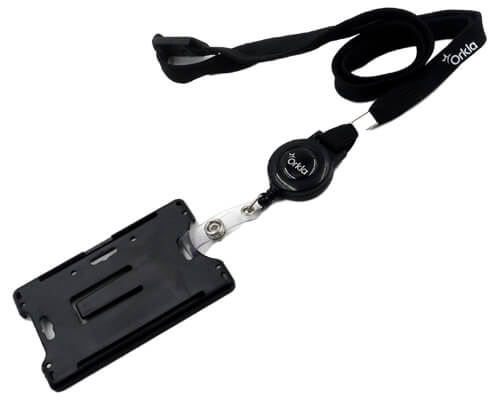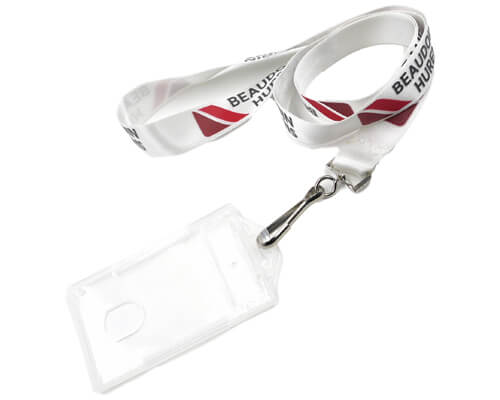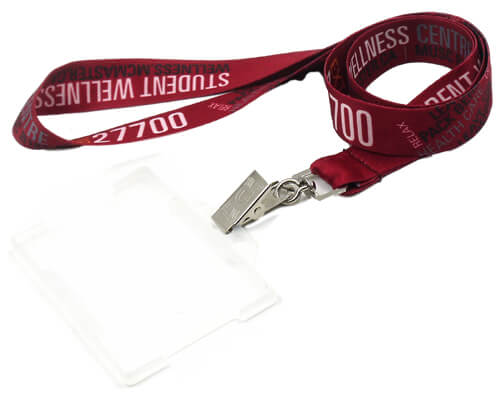 BADGE REEL FOR PULLING OUT IDENTITY CARDS OR AS A SKI PASS HOLDER
Badge Reels are the ideal attachment for identity cards or card holders. The badges or cards no longer need to be removed from the holder to be read, but can be easily pulled out thanks to the integrated pull-out mechanism and the pull-out cord. The badge reels can also be used as ski pass holders, so that the ski pass is always within reach at the mountain and valley stations and can be easily held against the card reader.
We can offer you the badge reels in different designs, color-coordinated to your company CI and printed or with a printed sticker.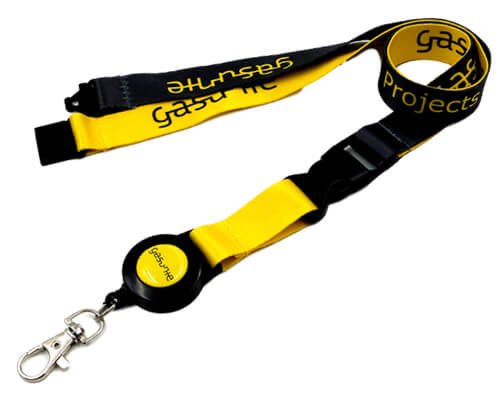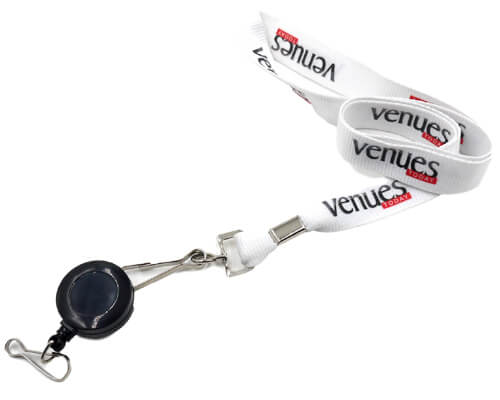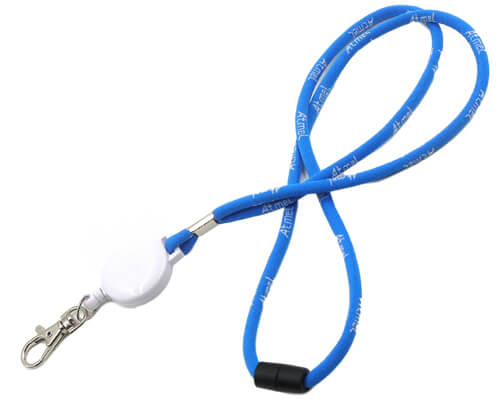 We offer different clips as optional attachments for our keyholders. These are ideal for attaching an admission ticket or ID to it and thus always have it at hand.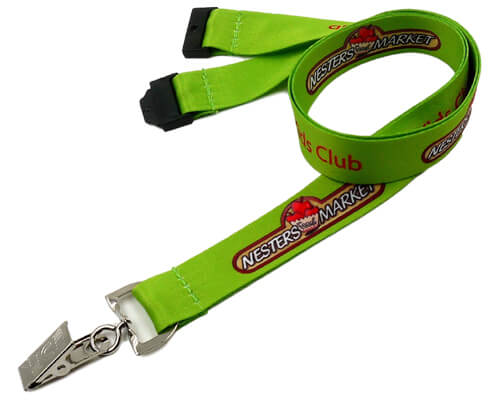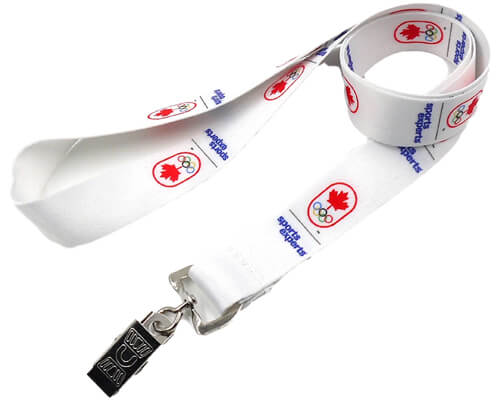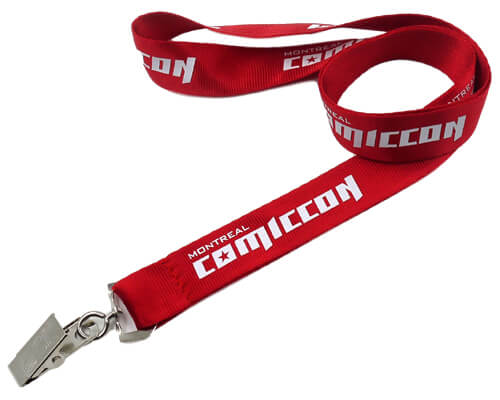 Especially practical for your customers are keyholders that come with an integrated bottle holder, with which the bottle and thus the drink can be carried comfortably around the neck. This way you have your hands free and can, for example, cheer on your sports club or better throw candies at carnival or fancy dress party. This attachment is especially interesting for breweries or restaurants.
The bottle holders for the lanyards are available in different versions – please contact us for the suitable holders for bottles.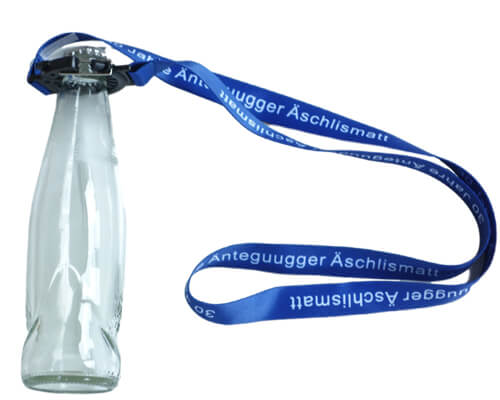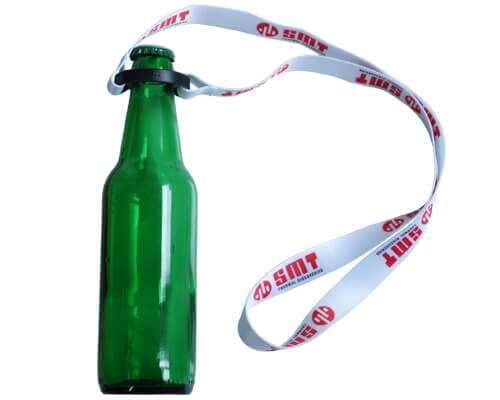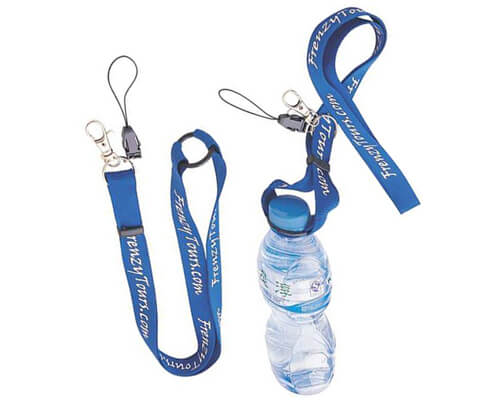 BOTTLE OPENER FOR OPENING BOTTLE CAPS
Lanyards with bottle openers are a useful in our everyday lives. They can be used to open the crown caps of bottles. No need to search for a person with an opener. Your customers or members will appreciate this attachment. Like the bottle holders, this attachment is interesting for gastronomic establishments, breweries or carnival clubs.
As you can see in the pictures, there are different versions for the bottle openers, so that you will surely find the one that suits your needs.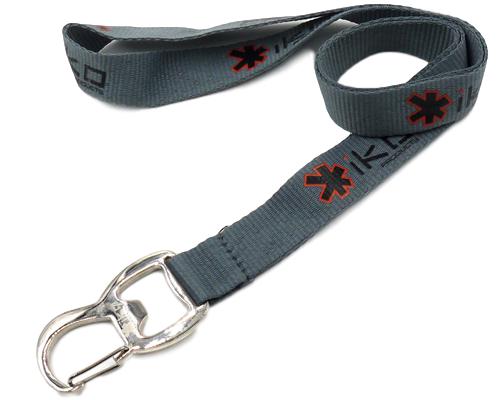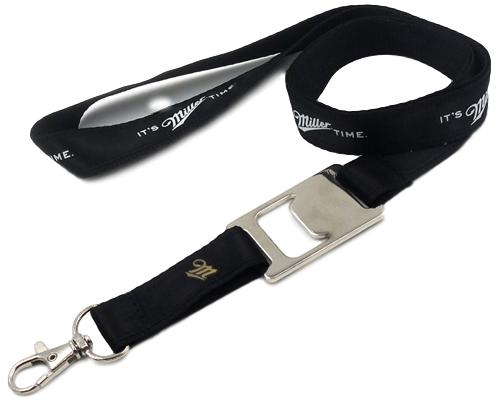 Lanyards with hooks are ideal for attaching keys or key rings. They are available in many different shapes, so that you can easily adapt them to the needs of your customers. Whether square, oval or drop-shaped, it is also easy to attach key rings to the hooks and thus add additional keys to the keyband. Thanks to a clever locking mechanism, your customers can easily remove keys from the hook and reattach them. You can order these lanyards with hooks as an inexpensive marketing product for your customers.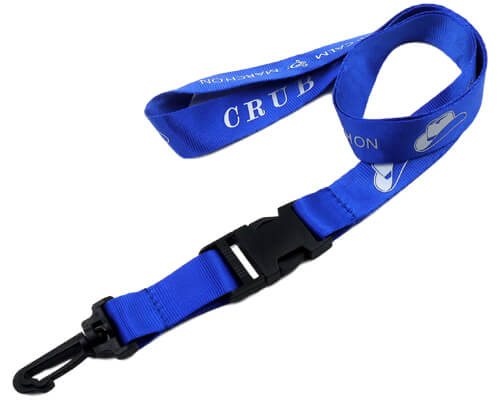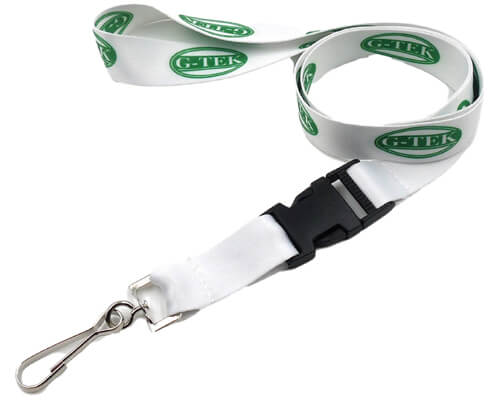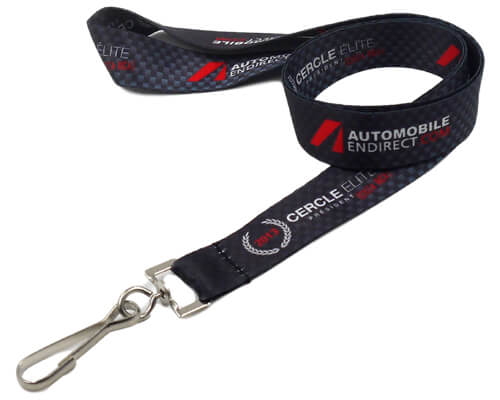 A lanyard with a mobile phone loop or a smartphone holder enables the safe transport of mobile phones in daily life. This means that your customers always have their smartphone around their neck, ready to hand, and always come quickly when it rings. Furthermore, the mobile phone along with the lanyard can't be moved very easily and is therefore better protected against theft when carried. The loop is very sturdily made, so that the smartphone cannot fall down when carried. Since almost everyone has a mobile phone nowadays, this give-away to customers is a particularly clever gift idea that is ideal for marketing purposes.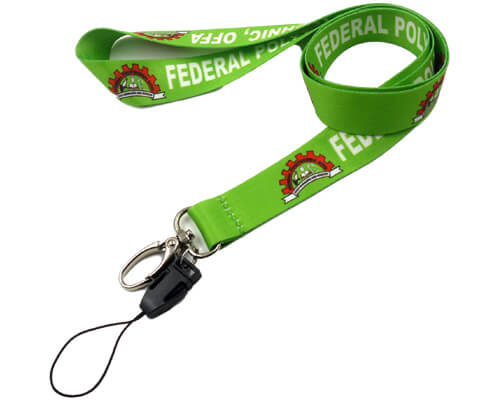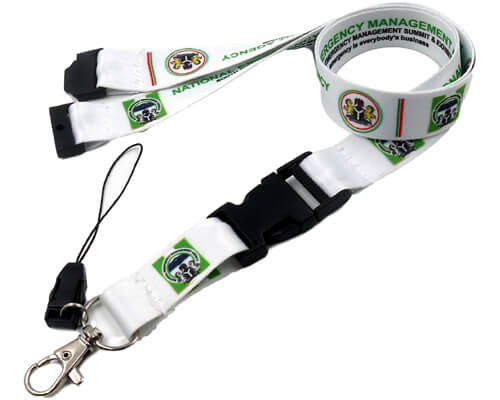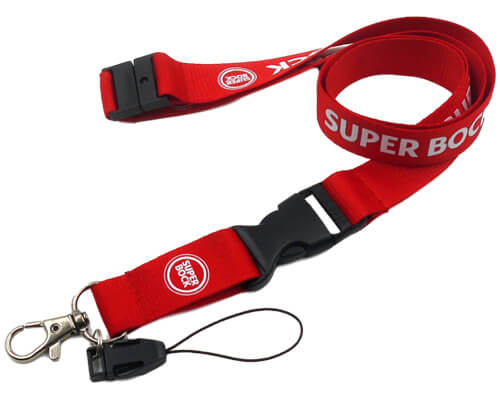 Carabiners for lanyards are a useful accessory with which keys can be easily removed and reattached. Not only keys can be attached to the carabiner, but also key rings or key chains can be easily clipped to it. The carabiners are available in different sizes and designs. There are also different colored versions, but also classic models in a chrome look. Thanks to the firm lock the keys remain firmly in the carabiner and cannot be lost. Provide the keychains with these accessories and use them to advertise your company.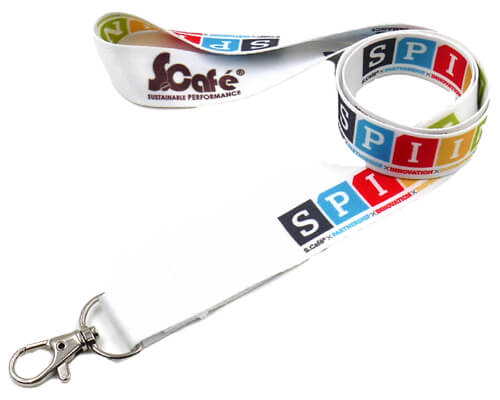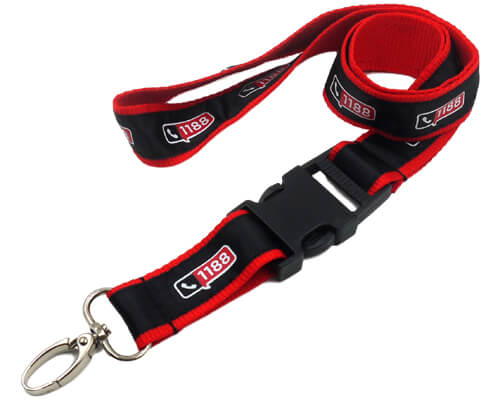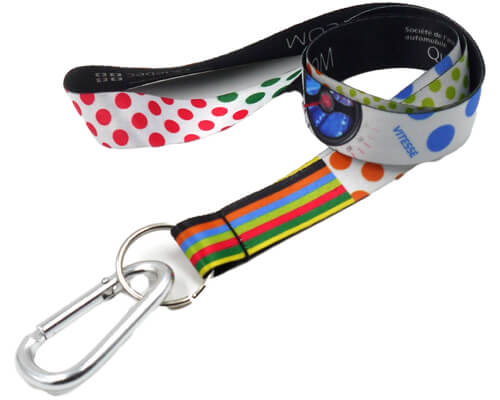 Among the classics of lanyards are key rings, which are available in different shapes and sizes. The rings offer space for attaching keys and key rings. In addition, the key rings can be easily joined together if several keys are carried separately on the lanyard. Key rings can also be used in combination with a carabiner in everyday life if you want to transport your keys safely. Order your keychains with matching key rings now.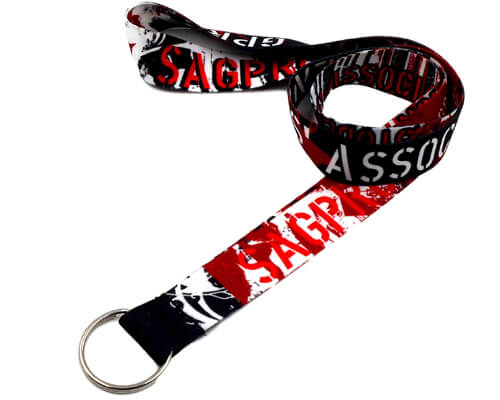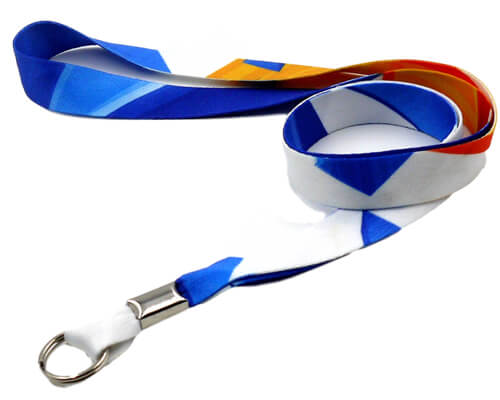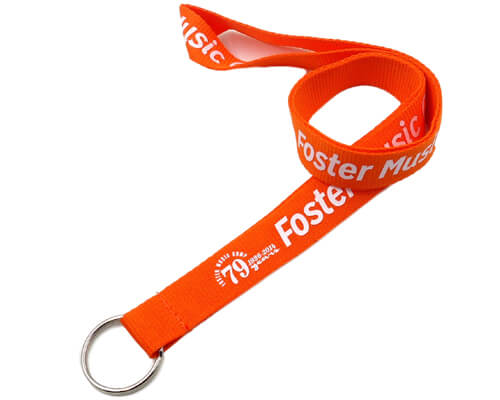 Many customers order their individualized lanyards with a safety lock. These safety clips are intended to prevent injuries caused by pulling too hard on the lanyard or jamming it. If you pull the lanyard strongly or abruptly, the safety lock opens automatically. Normally the closure is sewn in the area of the neck, but if you wish we can of course also attach it on the side. We can offer this safety feature for your customers in different colors and designs.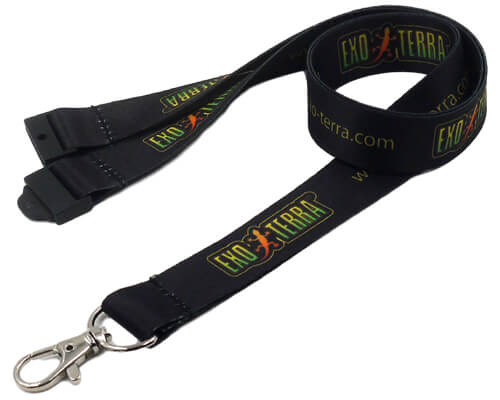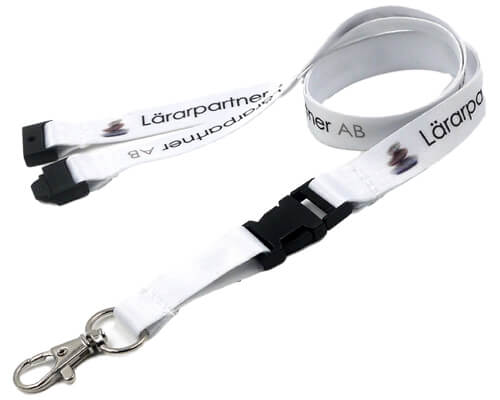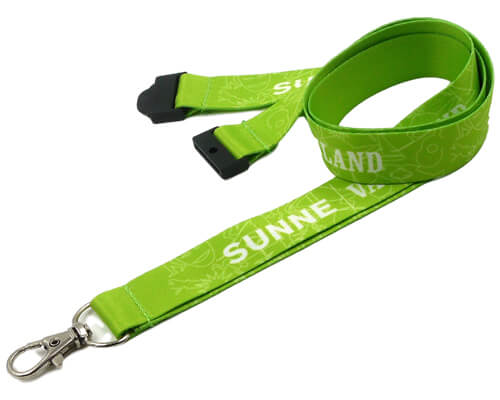 Lanyards with a buckle offer the possibility to separate the small part of the lanyard from the main band for easier and faster use. This way you have more freedom of movement when driving a car and when opening doors whose locks are tightly fitted. At any time the lock can be reassembled, so that the key ring can be worn with the lanyard around the neck or practically hung up. The lanyard can be completely customized (material, attachments, colors, print) and can be used for marketing purposes or as a giveaway to customers. The public wearing of the lanyard by customers can be an inexpensive way to advertise your company or club and thus build a close customer relationship or identity.
The plug buckle can be ordered in different widths and colors or can be laser engraved, making the lanyards even more personalized.