LANYARDS AND KEYHOLDERS WITH BOTTLE OPENERS

Lanyard and keyholder with an attachment to open bottles

Are you looking for a tool with which your customers can easily remove a bottle cap from their bottles in everyday life? Why not order lanyards with integrated bottle opener now and give your customers a stylish promotional item with added value?
We can offer you several versions of the opener – integrated in the lanyard or in combination with a carabine hook to which the keys can be attached additionally. You can combine the bottle opener with other attachments, so that you can freely create your absolute "dream lanyard".
Made of high-quality stainless steel, the bottle opener ensures a clean and quick removal of bottle caps without having to look for a separate opener. This not only saves your customers time, but also allows them to access the contents of a bottle with crown caps while on the road in a convenient way. Since you always have your keys with you, the bottle opener is always close by and makes it easy to remove caps.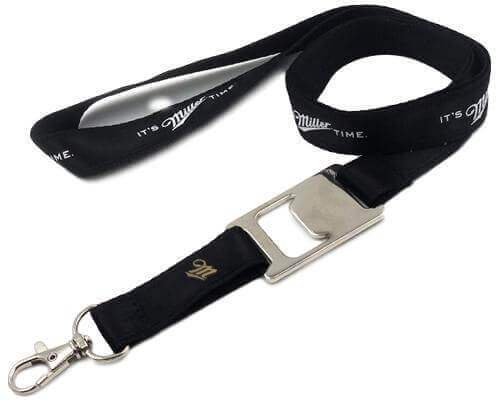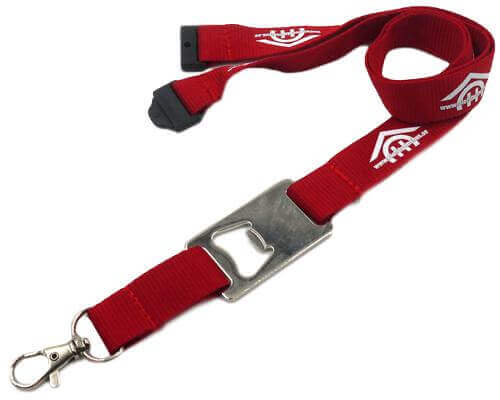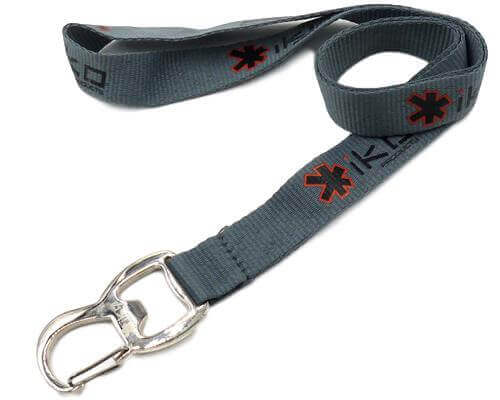 This lanyard can easily be used for your advertising. The name of your own company, the logo or the advertised product can be printed or woven on it. It is a cost-effective way to make your company more popular and at the same time you get a valuable give-away for your customers. The attractive giveaway can be easily distributed to customers and your own employees at openings, trade fairs or information events. As the bottle opener is mostly used in public, it is the ideal advertising medium to present your own products, services or your company. Even during major sporting events such as a football World Cup, a lanyard with a built-in bottle opener is a welcome change to make valued customers happy with an inexpensive promotional gift. The lanyards are of very high quality and stay tight on the neck when worn. We can offer you the lanyards with bottle opener in many different colors – the complete Pantone color palette is available for both the ribbon and the printing ink. Thus, the lanyards can be optically matched exactly to your company colours or your CI, so that the advertising material has a strong recognition value. The address of your website can also be placed on it, where customers can find further information about your services or the products offered by your company. You can now order the lanyards for employees, club members or as advertising material for customers.